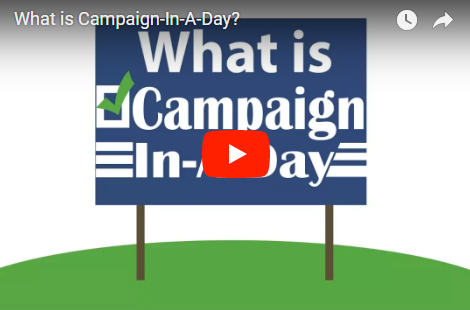 November 14, 2017
BY: Rachel Hebert
What to expect from Campaign-in-a-Day session with American Majority? Let's hear what attendees at a recent Campaign-In-A-Day at Liberty University had to say:
At each American Majority Campaign-in-a-Day training, attendees are divided into campaign teams. Then, they are given their own candidate along with their full bio. Using the candidate's unique strengths strengths and weaknesses, our moderator's guide attendees through the campaign process.
All event attendees are encouraged to apply skills learned in the seminar right away. Sessions are high-energy, hands-on, and activity driven. Attendees can look forward to gaining valuable experiences and skills for future endeavors on real-life campaigns. As an added plus, we cover many different areas of campaigning in each session, an opportunity which many attendees' wouldn't get volunteering for the average campaign.
Attendees go through briefings, assignments, and face-offs–all part of learning how the process of campaigning really works in an interactive, hands-on environment. Our Campaign-in-a-Day program simulates the fast-paced, responsive environment of real-life campaigning. Attendees get to respond to situations on the fly, present plans to a panel of experts, and to enjoy the camaraderie of building a campaign team. It's a great experience–don't miss out on it!
Interested in learning more about American Majority? Click here. Want to request a Campaign-In-A-Day training? Click here. We look forward to working with you!