In 2016 American Majority held our first Campaign-In-A-Day event in July in Ohio with 70 students. Fast forward to 2021 where we have traveled to 15 states to train over 1,800 students and adults through our Campaign-In-A-Day trainings. This profile series of blog posts are to highlight attendees' experiences with the event.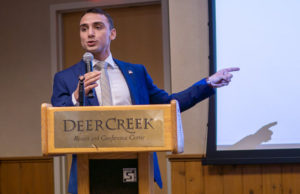 Name: Christopher Wilson
From: I was born and raised in New Orleans, Louisiana, but I am currently stationed at Fort Campbell, KY and live in Clarksville, TN.
Education/Occupation: I am currently an active-duty Army Infantry First Lieutenant. I graduated from West Point in 2018 with a BS in International Relations and completed Ranger, Airborne, & Air Assault schools before becoming a Platoon Leader  of 40 Infantry Soldiers here with the 101st Airborne Division. Serving those soldiers has been the greatest privilege of my short time-in-service thus far. 
Campaign-In-A-Days Attended: Forge 2020
CIAD was by-far my favorite part of the Forge Leadership Academy. Like actual political campaigns, it puts disparate people together in groups united behind a cause or candidate. The only difference is that it is condensed into one day, and we were imparted with a toolkit of tips and tricks literally right before from the moderators. They then basically say "Go" and just like the actual political theatre, the teams that forged the most cohesion behind a winsome platform ended up on top. We all learned along the way and had a blast doing so. We first had to learn each other's strengths and weaknesses. Initially, I thought I'd like to be the candidate because I enjoy public speaking, but my team had plenty of skilled speakers and my experience predisposed me for my team's immediate need: a campaign manager. My greatest contribution throughout the day was delegating responsibility, keeping us on task, and (somewhat unusual for campaign managers) speaking and retorting the opposition on behalf of my candidate.
The most challenging and rewarding aspect of CIAD is that it forces you out of your comfort zone. No one on my team had ever managed the finances for a campaign, dealt directly with the press, or run for office. The Army has a saying: you do not go to war with the guys you want, but with the guys you've got. Like a real campaign, CIAD forces you to utilize limited resources (both material and personnel) and to make it work with what you have. It was so rewarding at the end of the day to see my teammates, and now friends, strut their stuff with confidence in front of the panel of judges and the whole conference having not even known their job descriptions just that morning. 
For anyone interested in running for office, working on a campaign, or wanting to build a campaign team, I cannot recommend CIAD enough. It is a fun and interactive way to learn the basics of participating in a campaign and team-building. It is also a perfect introduction to the most adrenaline-inducing aspects of politics—perfect for college students and young adults interested in politics. 
If you're going to attend a Campaign-In-A-Day, one piece of advice I would offer is to first get to know each other and the roles before you start assigning them. This aspect not only lays the foundation for the team's success, but also fosters the most important aspect of any campaign: relationships. And have fun! If that competitive, lighting and putting-out fires adrenaline-rush is not for you, then campaigning probably is not either!