In 2016 American Majority held our first Campaign-In-A-Day event in July in Ohio with 70 students. Fast forward to 2021 where we have traveled to 15 states to train over 1,800 students and adults through our Campaign-In-A-Day trainings. This profile series of blog posts are to highlight attendees' experiences with the event.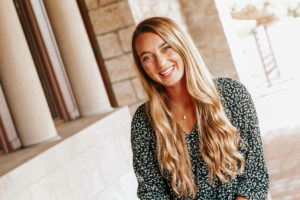 Name: Taycie Powell
From: Dayton, Ohio
Education/Occupation: I recently graduated from Liberty University with my bachelor's in business marketing and began my masters through Harvard this summer. I started a company a couple of years ago and currently work in a marketing/management role with that.
Campaign-In-A-Days Attended: Forge 2020
The Campaign-In-A-Day began where we were assigned a group to work with during the event, and I quickly realized that many of us had the same personality, which created some interesting dynamics for planning. Everyone was so intelligent and had such great ideas. Eventually, we all had to go with one idea and move on from there, which made problem-solving and strategizing critical skills to use throughout the program. There are so many aspects to a campaign that people don't think about as they watch one happening from afar. Opposition research, marketing, ad budgets, dealing with the press, and the list goes on. My sister ran for state rep a few years previous, and the lessons taught during CIAD are most definitely ones that are prominent in actual campaigns as well. 
A lesson reiterated throughout the program is that people and events are unpredictable. In campaigns, you never know what will be thrown at you by the press or your opposition. You also can't be positive about what your candidate will say. Having a planned strategy is great, but you have to be flexible and ready to pivot at a moment's notice. We had to make sure that everyone knew what they were saying when we presented. If I could go back, I think it would have benefited us to do a full out practice run with just our group before we presented in front of the judges. Just like in an actual campaign though, you have to roll with what's given you and make the best of it. It's nerve-wracking and exciting. 
When it comes to advice I have for future Campaign-In-A-Day attendees, I'd advise: Dive in. Get involved. Don't just sit by and watch the rest of the team plan. You never know when the skills you learn from this project will be needed in the future. Also, give opinions and be willing to have them rejected. Be teachable.