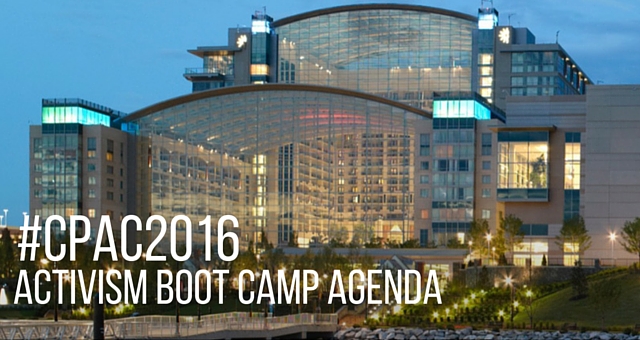 We are pleased to release the final agenda for the CPAC 2016 Activism Boot Camp, running Wednesday, March 2 – Friday, March 4, during the Conservative Political Action Conference in National Harbor, MD.
The CPAC Activism Boot Camp is set to unveil the best-kept winning campaign secrets on both sides of the aisle. Last year almost 1,000 people in standing-room only crowds were trained to win. The serious activists caught the attention of dozens of mainstream media outlets that led with headlines like, "How Conservatives Are Readying Their 'Grassroots Army' For 2016" (NPR), "Conservatives Aim to take Campaign Tips from Obama Playbook" (TIME), and "CPAC Campaign Boot Camp Trains GOP to Catch Up" (Roll Call).
On Wednesday, attend one of three tailored tracks—Student Activism, Community Activism, and Campaign, Data and Tech—as well as top-notch training sessions on Thursday and Friday. This training will be conducted by 30+ activists and campaign professionals who are out in the field making a difference today, including American Majority trainers from across the U.S.
Note: The CPAC Activism Boot Camp is included in your regular CPAC 2016 conference pass.
Wednesday Student Activism Track
Wednesday, March 2, 2016, 1pm-5:30pm, (Chesapeake A-C)
1:00 pm How We Reached 1 Million Students in 2015 (and How You Can, Too): Charlie Kirk, Turning Point USA
1:45 pm "You Have to See This!": Causing a Stir with Viral Videos: Caleb Bonham, DCO Consulting 2:30 pm Changing Campus Culture: Summer Ratcliff and David Blair, The Leadership Institute
3:15 pm There's No Such Thing as a Safe Space: Keeping Campuses Free: Catherine Sevcenko, Foundation for Individual Rights in Education
4:00 pm Winning Student Elections: Scott Ellis and Micah Pearce, American Majority 4:45 pm Get Hired in Campaigns and Politics: Evan Stewart, Campaign Hunter 5:30 pm Adjourn followed by Activism Boot Camp Reception, open to all Activism Boot Camp attendees  
Wednesday Community Activism Track
Wednesday, March 2, 2016, 1pm-5:30pm, (Chesapeake D-F)
1:00 pm Community Organizing in a Post-Obama World: Matt Robbins, American Majority 1:45 pm How to Beat the Left at Their Own Game: Brent Gardner, Americans for Prosperity 2:30 pm The Latino Vote: The Beginning or the End of the Conservative Movement?: Mike Madrid, GrassrootsLab 3:15 pm Social Media: How to Become the Digital Activist Every Movement Needs: Aubrey Blankenship, American Majority 4:00 pm The Wisconsin Model: A Five-Year Fight: Matt Batzel, American Majority 4:45 pm Not Running? What YOU Can Do to Influence an Election: Chris Doss, Revolutionary Communications 5:30 pm Adjourn followed by Activism Boot Camp Reception, open to all Activism Boot Camp attendees  
Wednesday Campaign, Tech, and Data Track
Wednesday, March 2, 2016, 1pm-5:30pm, (Chesapeake 4-6)
1:00 pm Campaign Messaging: How to Come Across in a Me-First World: Jessie Nicholson, Wisconsin Women's Council Board Member
1:45 pm Setting and Reaching the Right Vote Goals: Steve Sutton, The Leadership Institute
2:30 pm  What Is Political Database Technology and How Will It Help?: Chris Littleton, Voter Gravity
3:15 pm Social Media, SEO, and Campaign Branding: Use It or Lose It: Austin James, SOLVE
4:00 pm Say Goodbye to Clipboards: How to Run a Campaign from Your Smartphone: Ned Ryun, American Majority
4:45 pm Money Made Easy: Campaign Fundraising: Rachael Robertson, American Majority
5:30 pm Adjourn followed by Activism Boot Camp Reception, open to all Activism Boot Camp attendees  
#CPAC 2016 Activism Boot Camp
Thursday, March 3, 2016, 10am-4pm, (Chesapeake D-E)
10:00 am Bridging the Divide Between Veterans and Politics: Seth Lynn, Veterans Campaign
10:30am Talking to Minority Voters: Making the Case for Conservatives Nationally: Mike Madrid, GrassrootsLab 11:00 am If Reagan Ran Today: What 2016 Activists Must Learn from Reagan's Leadership Style: Peggy Grande, The Quiggle Group 11:30 am The Best Campaigns of Last Cycle and What You Can Learn from Them: Tayt Brooks, American Majority 1:00 pm Become the Press: Oliver Darcy, The Blaze
1:30 pm Grabbing the Spotlight: How to Generate Earned Media: Matthew Hurtt, Grassroots Leadership Academy
2:00 pm Face-to-Face Still Matters: How to Win the Day with Personal Interaction: Matt Batzel, American Majority
2:30 pm Reaching the Female Youth Vote: Alexandra Smith, College Republican National Committee
3:00 pm Engaging Millennials: Whitney Neal, Bill of Rights Institute 3:30 pm Know Your Enemy: Opposition Research: Alexandra Angel, America Rising PAC  
#CPAC 2016 Activism Boot Camp
Friday, March 4, 2016, 10am-1pm (Chesapeake D-E)
10:00 am Conservative Talk Radio: Rational Thought and the Average Joe: Andrew Wilkow, Host of the Wilkow Majority on SiriusXM Patriot
10:30 am Heat and Light: Making Government Accountable and Transparent: Josh Mandel, Ohio State Treasurer
11:00 am How to Get-Out-the-Vote with Digital: Kurt Bardella, 0ptimus / Endeavor Strategies
11:30 am You Get What You Measure: 10 Ways to Evaluate Your Lawmaker: Jessica Anderson, Heritage Action
12:00 pm How to Win the Room: Public Speaking Success: John Tsarpalas, Commonwealthy.com
12:30 pm The New Journalism: Citizen Journalists: Kevin Glass, Franklin Center