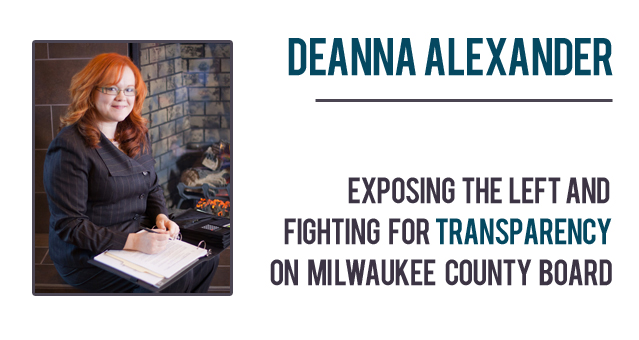 What prompts everyday Americans citizens to run for office to better their communities?  For Deanna Alexander, a mother of two in Milwaukee County, Wisconsin, it happened when she attended her first Neighborhood Watch meeting and heard about an opening on the Milwaukee County Board and saw no one else was interested.
Deanna had decided that she wanted to make a difference in her area and was contemplating her career trajectory as an accountant at a CPA firm.  She sought out the Neighborhood Watch meeting as a way to get more involved in her community. On learning that there was an open seat for a local, non-partisan, public office, she got that feeling in the pit of her stomach that this was going to be an exciting leap for her to make.  When she told her husband about her desire to possibly run for public office, he said "You are crazy," but as they both thought more about it, she realized "This is exactly what I want to do."
Having never before been involved with campaigns, Deanna went on Amazon.com the next day and bought as many books on running for local office as she could find.  She filed for candidacy on October 4th, 2011 and then looked for any help that experienced people might be able to offer.  Wondering if there was such a thing as a campaign school, she was happy to find American Majority active in Wisconsin and holding a training just weeks later.
At the American Majority Candidate Training on October 13, 2011, Deanna was able to "discern the good advice from the bad advice" in a lot of the books she had read and says that the training gave her the opportunity to take a lot she had learned from other publications and ask a real live person her questions. "I hadn't even known someone well who had worked on a campaign, so to meet people who had been on different levels of campaigns was helpful," she said.  She began collecting nomination signatures in December 2011.
Deanna not only won her three-way primary on February 21, 2012 with 42% of the vote, but she was elected to her position on April 3, 2012 with a solid majority (55%). But an independent thinker, who regularly seeks out her constituents' perspectives, was not what the rest of the Milwaukee County Board was expecting. Deanna was placed on the powerful Finance, Personnel, and Audit Committee and ruffled feathers when she voted against a simple budget provision that would result in raised taxes, something she had promised her voters she would oppose.
But voting against the tax and spend majority will only get you so far, she said, "It put me in a position to realize that at least the way politics is here in Milwaukee today, I can't just do my job and place my votes. If I want to leave a mark, I have to strategize and pay attention to what's going on around me and be innovative with the ideas I am bringing forward."
She continued, "I can't get very much accomplished from a policy standpoint, but I can create a public record of trying to inject common sense into debates and bring forward ideas no one else has thought of. I am close enough to the problem so that I can keep prodding it. The public then has more clarity as to what's going on."
When asked to summarize her efforts on the Milwaukee County Board since being elected 16 months ago, she said, "I have stood up for the taxpayer, I have notably demonstrated putting aside my personal interests for the public's interests, and I have been responsive to the constituents."
But there is more to the story.
Deanna has regularly exposed the liberal shenanigans and brought transparency to the Milwaukee County Board. When the State Legislature (county government is an arm of the state government in Wisconsin) considered a Milwaukee County Board reform bill to cut the oversized budget of the Board and reduce the pay of the overpaid Supervisors (among other things), Deanna first reached out to her constituents to hear their views.  She planned townhall meetings and sent out a survey to determine their thoughts. After finding that most of her constituents supported some kind of reform, Deanna went against her own self-interest (of a higher pay check) and outwardly supported reforming the County Board.
When the Milwaukee County Board began illegally bargaining with unions behind closed doors, and Deanna was placed under an "internal gag order" not to speak to the public, the media, or other elected officials about their dealings, Deanna strategized to help expose what was taking place.  The story broke to the public as a result of an Open Records Request and Deanna sought out legal counsel about what she could legally discuss.  With the confidence that she was there to serve the public and not her peers, she determined how to give "the media a glimpse into what was going on" which resulted in most of the story being made public.  Just one year into her term, she is now known as a whistle blower in Milwaukee County.
A few months later, Deanna found out on a fluke that her colleagues had gone behind the public's back to secure the votes to fire the County's head attorney – the same attorney who had given Deanna legal advice in the whistle-blowing arena.  They had even told each other "don't talk to Deanna" about it.  Deanna believes that these actions violated the Open Records Law, so she, represented by the Wisconsin Institute for Law and Liberty, filed a legal complaint on behalf of the citizens of Wisconsin against her Board.
In response to her actions, her colleagues have sought to literally bully and marginalize her.  She was recently removed from the powerful Finance, Personnel, and Audit Committee as punishment for some of her integritous actions.  Based on the Left's reaction to her efforts, Deanna has been extremely effective and a thorn in their side.  She has become a rising conservative star, with a bright future.
When you consider all she has been through, you might think she would steer others away from running for office, but that's not the case. She said, "I do think that there is certainly a set of skills or capabilities that a person needs to have or work to develop in order to be successful. Going through the stress and the adversity of running for office is only worth it if you are putting in your all in order to be successful; but if someone is game for the steep learning curve, it is a very rewarding endeavor and I highly recommend running for public office."
Let's hope more like Deanna step forward to improve their communities through running for office.