At American Majority we believe in taking strategic steps to solve the problems in our communities. Have you taken a look around you, not only at the waste and spending in our nation, but your state, county, and local community?
If you're thinking about running for office, or helping someone else run for office, whether it's school board or state senate, begin to prepare for the journey with the American Majority Campaign Resources. We offer dozens of free resources in our Campaign, Activist, and Social Media Resources Section of this site, but we want to give you a beginners guide on where to start. Once you've explored these resources, read, watch, and listen with our other fantastic guides, video clips, and podcasts to prepare yourself to run and win.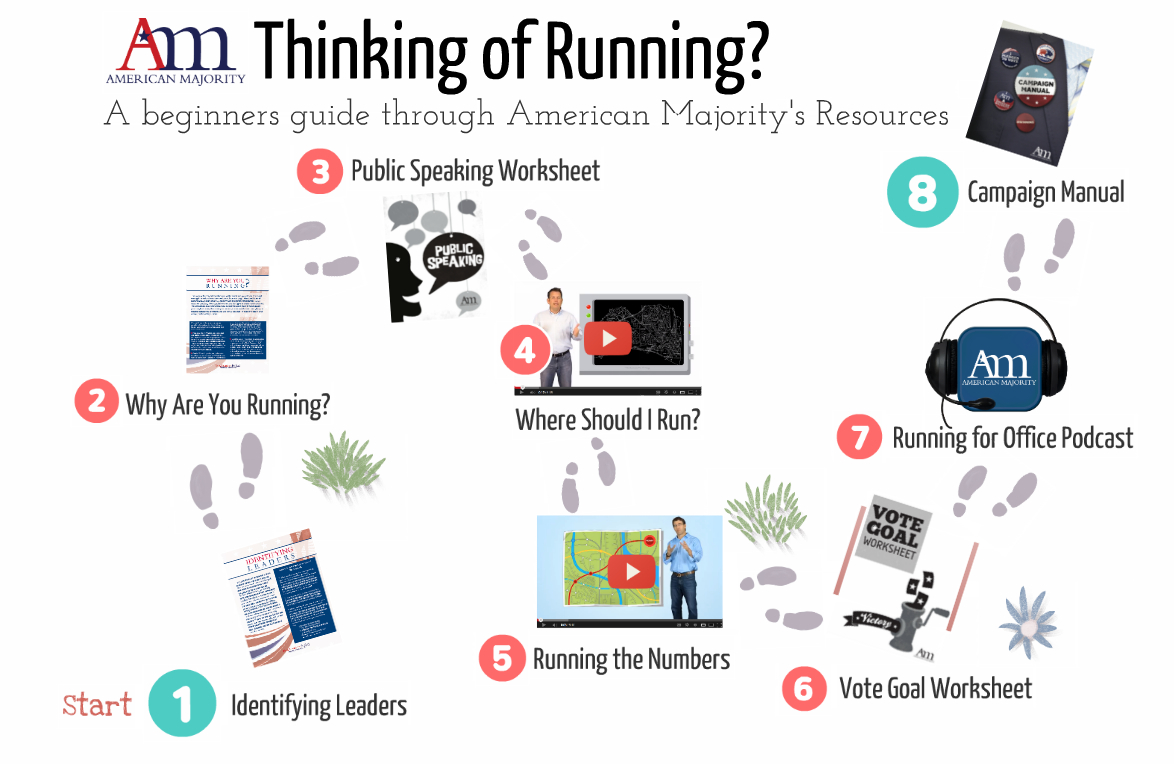 1. Identifying Leaders: What does your community need and who should step up?
2. Why Are You Running: Define the heart of your message.
3. Public Speaking Worksheet: Know the problems and solutions, and learn to communicate those clearly.
4. Where Should I Run: Learn how to do your research before running.
5. Running the Numbers: Create a concrete plan for victory.
6. Vote Goal Worksheet: What do you really need to win?
7. Running for Office Podcast Series: Learn what it takes from beginning to end in this 22 podcast series.
8. Campaign Manual: Learn the ins and outs of running a campaign for the first time in this comprehensive must-have guide for candidates, staff, and volunteers.
Congratulations! You are now more prepared to run for office than most people in this country! Contact American Majority with any questions or to bring an in-person training to your community!