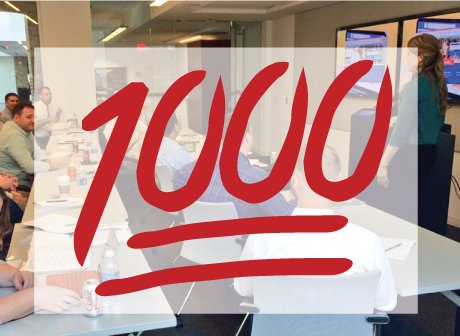 FOR IMMEDIATE RELEASE:
Media Contact:
Nate Nelson
nate@americanmajority.org
Waukesha, WI (September 14, 2016) – American Majority hosted its 1,000th Grassroots training that gave conservative activists and American Majority members an edge in today's political conditions. Various workshops, speakers and panelists gave attendees the chance to expand their knowledge about technology cutting-edge tools needed to make a change at the state and local government level.
"It's about empowering people to bring real change to their communities and impact multiple generations at the national level," said Ned Ryun, CEO of American Majority. Ryun continued, "American Majority is about building an extended and strong team of conservative leaders at the state and local level."
"Say Goodbye to Clipboards," and "Fail U: The False Promise of Higher Education," were two of the workshops held to inform attendees how to use social media and different technologies in today's campaigns. Attendees were also taught how to manage attacks on campaigns at the "Message Through the Heart," program.
Matt Batzel, the Executive Director of American Majority, oversaw the panel where conservative leaders spoke about the conservative condition and movement in Wisconsin. With almost 3,500 American Majority members in and running for state and local positions and 37,000 trained members, the American Majority is one of the biggest training organizations for conservatives.
"We're excited about this milestone of reaching our 1,000th in-person training," said Ryun. "We look forward to continuing to expand our footprint and our work across the country with more training workshops in the future."
About American Majority American Majority is a non-profit and non-partisan political training institute that believes change must begin at the local level, through engaged citizens effectively implementing freedom. We believe that individual liberty is achieved through limited government and free markets. We believe in lowering the barrier to entry for citizen participation in our republic. By training new leaders and activists to be effective today, we are enhancing America's tomorrow. Visit us on the web at www.americanmajority.org or follow us on Twitter and Facebook.